Overview
iSR'obot™ Mona Lisa:
Aims to be the next gold standard in prostate biopsy
Through the advanced robotic system, you can perform transperineal MRI-ultrasound fusion targeted prostate biopsy with precision and ease.
The intelligent real-time robotic system allows MRI-ultrasound fusion, enabling you to target the region of interest. Using Mona Lisa's intuitive user interface, you can create custom biopsy plans with ease and flexibility.
With the created biopsy plan, the robotic system controls the needle positioning and depth of the biopsy needle, allowing systematic sampling of the planned cores.
The precise coordinates taken of each biopsy sample allows for accurate repeat procedures to be carried out, thus facilitating active surveillance and aiding in treatment planning.
Key Features and Benefits
Robotic needle guide positioning and depth control
The Mona Lisa's robotic needle guide is a true navigational system. From the custom biopsy plan created, the robotic system controls the needle positioning and depth of your biopsy needle, allowing the planned cores to be collected with speed and accuracy.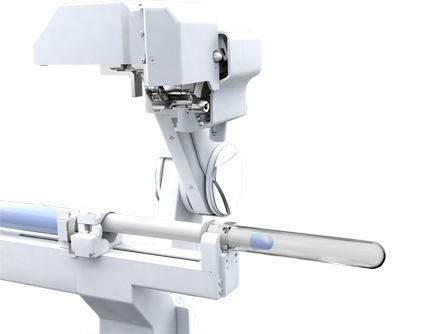 Prostate stability with ultrasound probe sheath
Housed in a specially designed probe sheath, the ultrasound probe moves within the sheath and scans unobstructed. The clever probe sheath prevents prostate deformation and additionally provides valuable stabilization. Targeted region of interest can be sampled accurately and effortlessly.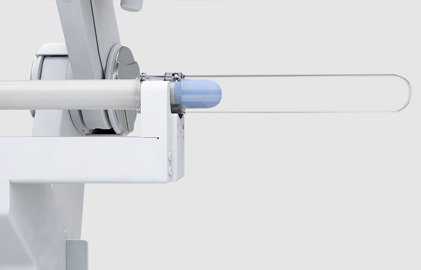 Innovative Dual Cone technology
Mona Lisa's transperineal dual cone approach creates a virtual pivot point ensuring multiple needle entry through the same channel. This approach is designed to minimise pubic arch interference and enable complete prostate coverage.
Automated yet flexible biopsy planning
A targeted biopsy plan is proposed by Mona Lisa. The intuitive user interface allows mix and match from three biopsy plan options to create a custom biopsy plan. The Urologist has the flexibility to add, move or delete core location at any time.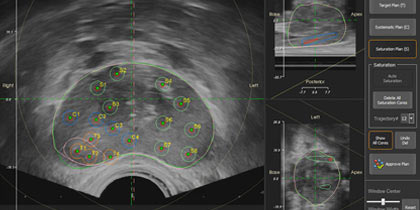 Elastic MRI-ultrasound fusion
At one click, the MRI model and ultrasound model fuses instantly, providing surgeons with 3D visualization and enabling targeting of the region of interest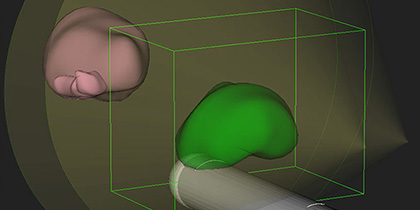 How it Works?
Scan & Model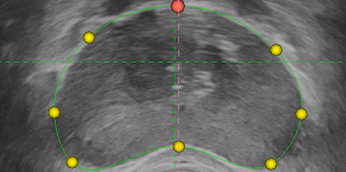 Mounted on the robot and using the probe sheath, the ultrasound probe moves automatically and scans unobstructed within the patient.
From the 2D images, the physician marks out the prostate boundaries to facilitate 3D model reconstruction.
Fuse & Plan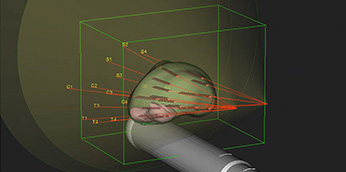 Before the biopsy, the radiologist performs MRI scan on the patient, and uses UroFusion to model MRI prostate and mark the region of interest.
The imported MRI model fuses with the ultrasound model instantly.
The Target Plan and Saturation Plan options automatically generate core locations based on region of interest and entire prostate respectively.
Biopsy & Report
Based on the biopsy plan, the robotic needle guide and needle stopper are automatically and precisely positioned.
The physician inserts the biopsy needle and obtain cores with speed and accuracy.
Comprehensive reports are automatically generated with clinical data and 3D images.
Other Benefits
Auto Adjust
With a single click, physicians can easily adjust the needle guide to target at desired location.
2D and 3D view
Easy switch between 2D and 3D views enhances visualization of region of interest and review of biopsy plan.
Motion Compensation
Accommodate for patient's prostate movements during procedure with fine adjustments of up to 0.2mm.
Comprehensive report
Reports are automatically generated with 3D images and clinical data.
System Overview
iSR'obot™ Mona Lisa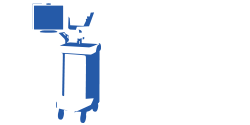 Urofusion Software
Urobiopsy Software
Easel Bed Mount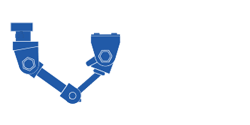 Biopsy Kit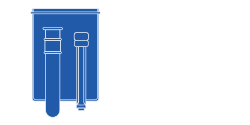 (needle guide, probe sheath and drape)
Specs
Size And Weight
Overall Dimensions
560 mm (W) x 680 mm (D) x 1460 mm (H)
Weight of iSR'obot™ Mona Lisa
89.1kg
Weight of Robot Arm
4.7 kg approx.
Range / Accuracy
Cover Range
70mm (X direction) x 70mm (Y direction) x 60mm (Z direction)
Mechanical Accuracy
+/- 1.5mm
Operating Environment
Temperature
+10°C to +35°C
Barometric Pressure
700-1060 HPa
Accreditations


MD 560720
FDA (U.S.A)
CE mark (Europe)
TGA (Australia)
HSA (Singapore)
EN ISO 13485:2016
Physicians FAQ
How is Mona Lisa able to cover whole prostate through two entry points?

Mona Lisa uses a unique transperineal Dual Cone technology. The needle guide pivots on the same entry point, thus creates a conical trajectory for biopsy needle to reach targeted core.  Based on location of the planned core, the robotic needle guide moves to either the left or right entry point for targeting the left or right side of the prostate gland. The needle guide always returns to either entry point and no template or grid is required.

Do I need undergo special training?

Yes, there will be a half-day training conducted by our qualified trainers before you perform a patient biopsy case. The training program includes use of the software program and a hands-on dry-run session on the robot.

Is there any third party special equipment required?

The Mona Lisa robot with the stabilizer will need to be attached to the side rail of a standard operating theatre table. The system will be connected to your existing ultrasound transducer*. The biopsy needle used has to be 18G and 20cm length (instead of the typically 25cm length needle used for TRUS).

*contact Biobot to confirm compatibility with your system.